10.11.2021
YEAB to host the 6th ASEAN Young Entrepreneurs Carnival 2021 virtually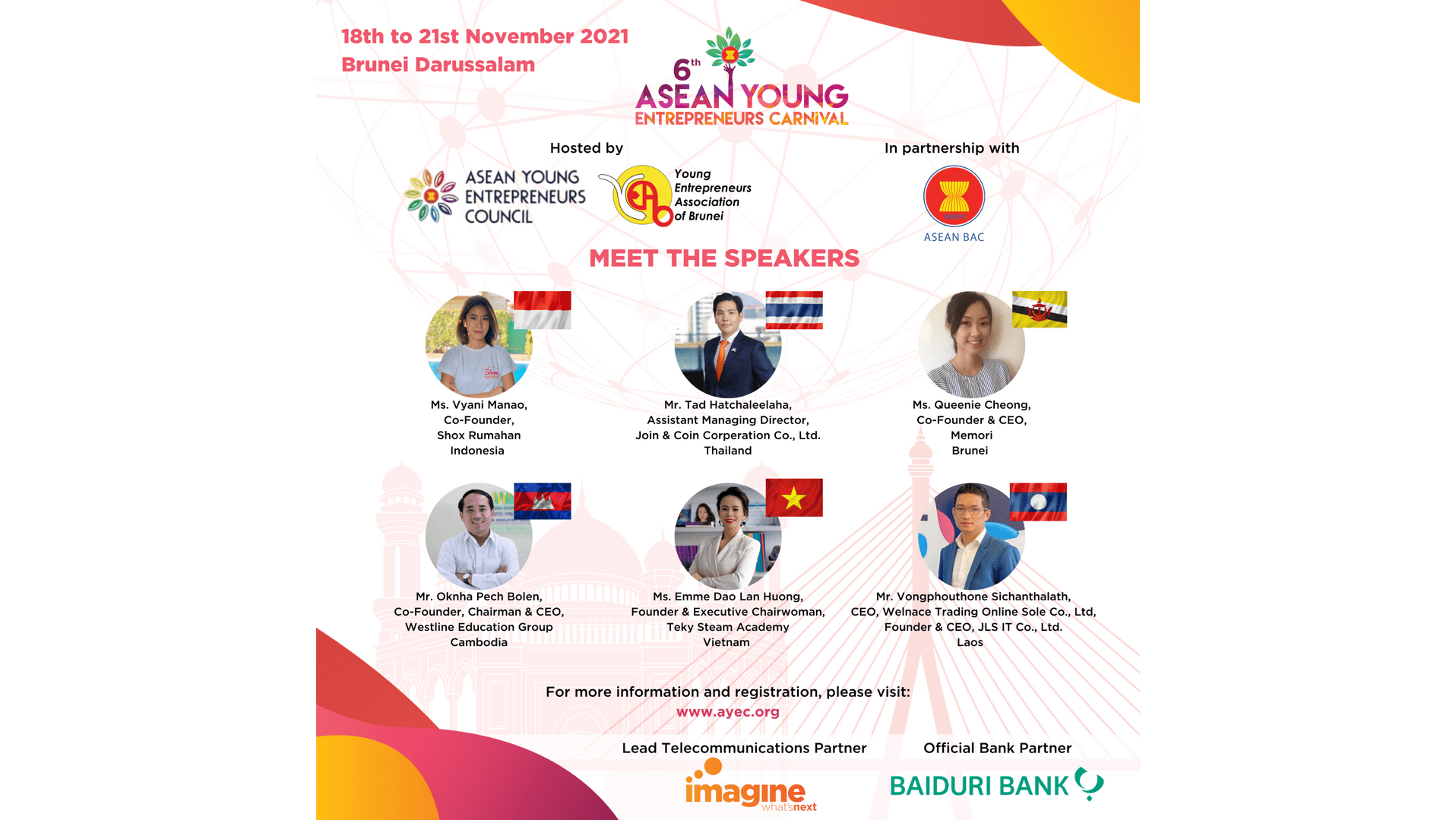 The 6th AYE Carnival is hosted by the Young Entrepreneurs Association of Brunei (YEAB) and ASEAN Young Entrepreneurs Council in partnership with ASEAN-Business Advisory Council, Imagine (Lead Telecommunications Partner) & Baiduri Bank (Official Bank Partner).

Will be happening this 18th to 20th November 2021 virtually. Registration is open to everyone and it is free. You can go to ayec.org and click on register to book your spot.

We have exciting speakers lined up from all over ASEAN and the ASEAN + countries as well.
The Young Entrepreneurs Association of Brunei (YEAB) expects to draw over a thousand business people from the region for the 6th ASEAN Young Entrepreneurs (AYE) Carnival that they will be hosting virtually this November 18 to 21.
Held to connect the region's young entrepreneurs to discuss key economic developments and network over business opportunities, the AYE Carnival is the annual flagship event of the ASEAN Young Entrepreneurs Council (AYEC) – who officially represent young entrepreneurs in the ASEAN policy-making process.
In conjunction with Brunei's ASEAN chairmanship, YEAB – Brunei's representative to AYEC – will be organising the carnival virtually for the first time, setting the theme of "Reimagining Business in the New Paradigm".
The AYE Carnival will feature three main components: a virtual expo from November 18 to 21, a full day forum on November 20 from 8.30am to 6pm; and a policy dialogue forum between AYEC and the ASEAN Business Advisory Council (ABAC) on November 19.
Businesses and the wider public are invited to register online to attend the full day forum and virtual expo. Meanwhile the AYEC – ABAC dialogue, which will be held on the same day as the AYEC's General Meeting on November 19, will be an invite-only engagement.
Standing chair of YEC and YEAB, President Fatin Ariffin, said over 25 leading entrepreneurs, professionals, and policymakers will be speaking during the carnival.
Most of the open forum sessions will centre around businesses' and economies' adaptability to the COVID-19 pandemic, where strategies and best practices on navigating the new normal are expected to be shared. With the AYEC also setting up with ASEAN Young Women Entrepreneurs Club earlier in July, the wider inclusion of women in businesses and the economy will also be highlighted.
"Many of our MSME colleagues across the region have suffered tremendously from the impact of COVID-19 that have grappled the world since last year with restrictions resulting in losses in business and thus hope that the AYE Carnival could be the impetus for our young entrepreneurs to re-emerge from this pandemic stronger, wiser and bolder," said Fatin.
"We want to inspire and challenge our ASEAN young entrepreneurs to contribute to taking ASEAN to greater heights together."
Baiduri Bank's Deputy CEO Pg Azaleen Pg Dato Hj Mustapha, whose organisation is the event's official bank partner, said the carnival can help entrepreneurs gain clarity on trends and challenges, and utilise these insights to help further their aspirations.
"The AYE Carnival can help open more avenues and opportunities for the youths to gain inspiration and develop essential skills to enhance not just their marketability but their livelihoods," he said.
"This is very much in line with Baiduri Bank's commitment to empower individuals and businesses to achieve financial success, thereby contributing to Brunei's Wawasan 2035."
Registration for AYE Carnival can be done through their eventbrite link, while those interested in having a virtual booth can email ayec.carnival@gmail.com.
The AYE Carnival is also hosted in partnership with ASEAN-Business Advisory Council, Imagine (Lead Telecommunications Partner), and Baiduri Bank (Official Bank Partner).